A powerful, customized system for managing marketing across your organization
Maintaining your brand across your materials is easy with our Digital Storefront. East Coast Media's Web, Prep and Customer Service team creates your catalog of marketing collateral such as business cards, stationery, brochures and booklets, banners, promotional products and apparel based on your own files or reusable templates we can develop for you. Employees can log in and customize these materials, select specifications such as quantity and delivery options, then proof the order on screen, order, and track their jobs online. Tell us if you need another approval layer and we will add a manager sign-off, purchase order number or even create it to process credit card payments with each order.
If you're using our fulfillment services to store your printed pieces, you can order from your existing inventory using your Marketing Storefront. We will select, package and ship your items to the destination you choose.
An advanced online tool for speed and efficiency
At East Coast Media, we know your time is valuable. Using our Marketing StoreFront is a great way to make the most of your resources. Customers spend approximately 50% less time procuring their stationery items through a Digital StoreFront than through traditional means because the process is significantly faster at every step of the way. We can batch similar orders together and reduce turnaround time from 1-2 weeks to as little as 72 hours.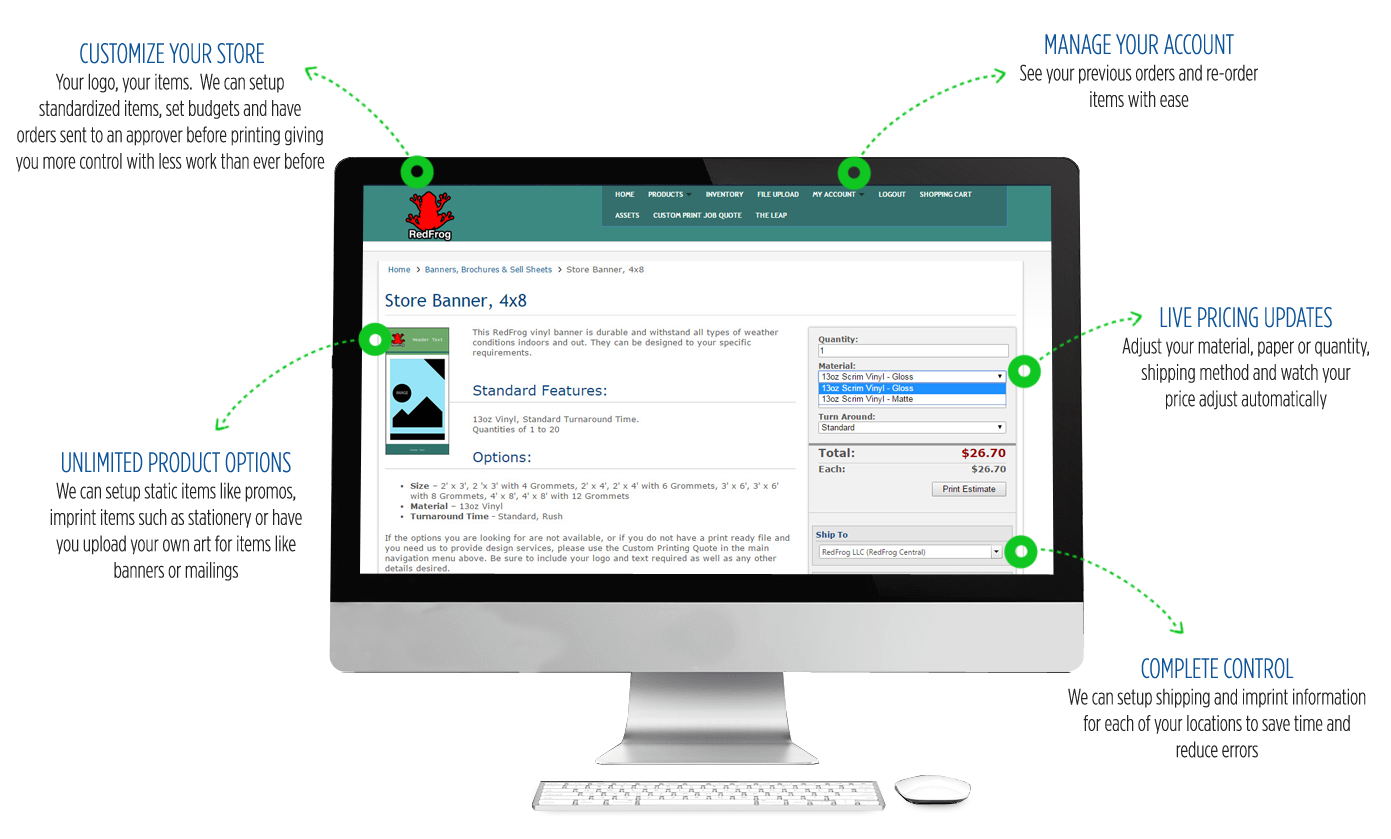 At-a-glance
With East Coast Media's Digital StoreFront, you can:
Print on demand to save time and money
East Coast Media's StoreFront supports true "print on demand" and since you see pricing with quantity breakdowns, you can make good buying decisions by printing only what you need when you need it. Keeping your materials updated and fresh while reducing storage needs reduces waste—often by as much as 40%.
This system helps keep all your printing in one place by using the same processes to track and manage standard-sized documents as well as large format, wall posters banners, retractables, door posters, business signs and more which can be included as customizable or stock items.
Basic
FREE
Great for small businesses
Secure Custom Store
Up to 5 Items
Single Login
Order History
PO Checkout
Business
Custom Quote
Businesses with Multiple Locations
Secure Custom Store
Up to 20 Items
Multiple Logins
Order History
Approval System
Credit Card or PO Number
Enterprise
Custom Quote
Companies with Multiple Entities
Secure Custom Store
Unlimited Items
Login Signup
Order History
Multi-Level Approval System
Credit Card or PO Number
Location Selection
Dynamic Logo & Imprint
Reporting